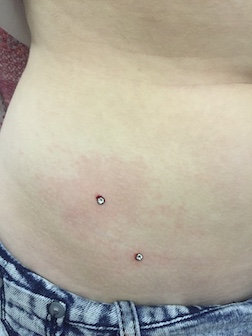 Dermal Implants
First Implant $45
Additional Implants in the same visit $35

The dermal implant is a two part piercing. The foot goes under the skin and the top screws into the threaded post on top of the foot.
In order to place the dermal implant a small hole the same size as the is cut in the skin with a sterile biopsy punch. The foot which is larger than the post is then inserted under the skin so the top will rest on the skin.
Dermal implants dont require much maintenance, however, they don't tolerate much abuse either.